Sudah tau siapa aja yang bakal main di Festival Jazz terbesar di Indonesia tahun ini? Dijamin nih Urbaners, yang ditampilkan pada Java Jazz Festival tahun ini nggak kalah seru dengan tahun-tahun sebelumnya. Nggak sabar pingin tau? Langsung aja ini dia lineup-nya, beberapa musisi-musisi yang hadir mewarnai Java Jazz tahun ini.
Untuk musisi-musisi dunia, ini dia nama-nama yang hadir mengisi acara Java Jazz Festival 2015. Diantarnya ada Akiko Tsuruga, Blue Note Tokyo All-Star Jazz Orchestra, Bobby McFerrin, Chaka Khan Feat. Incognito, Chris Botti, Christina Perri, Jessie J, Kenny Lattimore, Lisa Ono, Meshell Ndegeocello, Naturally 7, Malaysia Big Band Feat. Harvey Malaiholo, Ramsey Lewis, Richard Bona, Ron King Big Band, Shohei Yamaki, Skyline, Snarky Puppy, Symbiosis, The Raghu Dixit Project, Timeless Fusion Party, Warren Hill, Wayne Krantz / Anthony Jackson/Cliff Almond.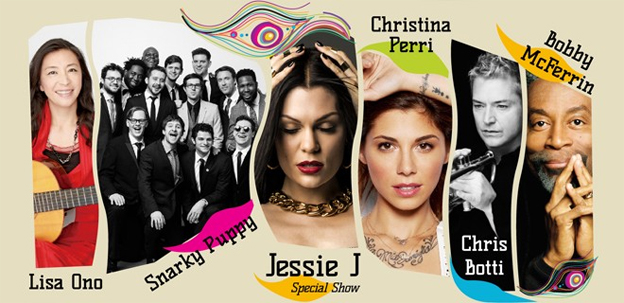 Selanjutnya musisi-musisi Indonesia yaitu ada 3 Diva, Afgan, Ananda Sukarlan - Rapsodia Nusantara,Benny Likumahuwa, Dewa Budjana, Dwiki Dharmawan Meets Violet Spin, Farrah Di & Jei Angklung Feat Sol Project BPJS, Galaxy Bigband Jazz Orchestra, Gerald Situmorang Trio, Gilang Ramadhan-Komodo Project, IMI Project Tribute To Rinto Harahap, In Memoriam Of Denny Sakrie with Neonomora, Endah n Rhesa, WSATCC, Isyana Sarasvati, Kahitna, Karim Suweileh and the Jazzy Quintet Tribute to The Beatles, Lantun Orchestra, Laya Putri, Lea Simanjuntak - Timeless Jazz, Matajiwa, Mocca, Mus Mudjiono - Music Journey, Nathan Hartono Feat Andi Rianto, Oele Patiselano Quintet, Payung Teduh, Petra Sihombing, Potret, Rekoneko , Reza Artamevia, Ricad Hutapea, Rinni Wulandari, Ruth Sahanaya, Sammy Simorangkir, Shadow Puppets & Reed Ensemble feat. Harvey Malaiholo - Playing Cole Porter, Sheila On 7, The Ladies Of Jazz 'Ermy Kullit, Tohpati, Tritone, Tulus, Yamaha Music Project 'Glenn Fredly, Bams, Marcell, Sandhy Sondoro, Is Payung Teduh', Youth Jazz Orchestra, Yura.
Nah itu dia Urbaners, beberapa lineup Java Jazz tahun ini. Kalau Urbaners mau tau lebih lengkapnya, Urbaners bisa langsung check di website resmi Jakarta International Java Jazz Festival (http://www.javajazzfestival.com). Urbaners juga bisa lho untuk langsung tau hari apa dan kapan musisi-musisi ini tampil. Jangan sampai terlewatkan penampilan musisi favorit kalian ya Urbaners.